Win 2 Tix to See Eric Church at the Wharf on 9/16!
August 30, 2017
Let's Kick-Off the Fall Season with Vacation Fun & Entertainment!
Simply login to Facebook and s
hare Sugar Sands Realty & Mgmt's post from August 25th, titled, "Labor Day Special/Contest" with 3 friends
and enter to
win 2 tix to see
ERIC CHURCH
on Saturday, 9/16 at the Wharf!!!
Winner will be announced on Friday, 9/8. Stay tuned for updates!
*TAKE ADVANTAGE OF FREE NIGHT SPECIALS! STAY AT LEAST 3 NIGHTS AND GET AT LEAST 1 FREE NIGHT:
STAY 14 – PAY 10
STAY 7 – PAY 5
STAY 6 – PAY 5
STAY 5 – PAY 4
STAY 4 – PAY 3
STAY 3 – PAY 2
USE COUPON CODE: Fall FN 2017
*NEW RESERVATIONS ONLY.  SOME UNITS DON'T PARTICIPATE.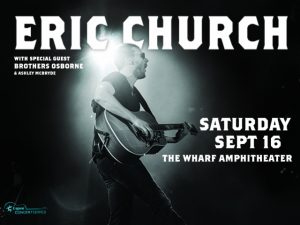 This entry was posted in Events, News. Bookmark the permalink.