6 Tropical Cocktail Spots in Gulf Shores and Orange Beach
Posted on March 31, 2021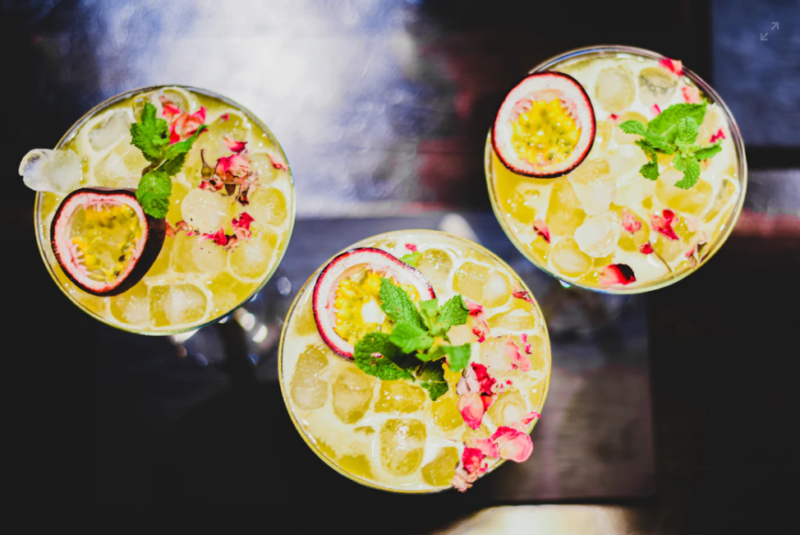 The Gulf
The Gulf definitely has an island vibe with a great view! Take a seat at a picnic table or lounge in one of their beach couches and browse the great cabana bar menu. Order something classic like a Bloody Mary or you can try something more tropical like their seasonal berry mojito or spicy blackberry margarita.
Pleasure Island
With an outdoor bar, beautiful view of Sportsman Marina and hammocks to lounge in, you'll want to lounge at Pleasure Island all day. They have classics like pina coladas and Bloody Mary's plus several signature cocktails like the ono oasis, named after local Ono Island.
Cobalt
This is a beautiful restaurant with an outdoor cabana bar featuring live music most nights and string lights hanging from the palm trees. You'll love the cocktail menu just as much as the atmosphere! They have a full stocked bar with a great whiskey selection and a signature cocktail menu including drinks like Orange Beach Margarita and their own topical sangria topped with fresh fruit.
The Hangout
This The Hangout has a summer feeling year-round! The windows are open for clear view of the beach in Gulf Shores and the staff makes sure you have a great time during your visit. This is also a very family-friendly atmosphere. Order a classic bushwacker or one of their signature cocktails like the Shark Attack!
Anchor Bar and Grill
The view and the bushwacker at Anchor Bar and Grill are two of the best on the island, so be sure to stop by for an island time atmosphere during your vacation. They have a laid-back menu with your favorite classic cocktails or try one of their signature drinks like the Spring Fling or Ghost Train.
Tacky Jacks
This Tacky Jacks is great any time of day but brunch on the weekends on the deck surrounding the cabana bar is a great place to spend an afternoon! You can sit back and watch yachts, dolphin cruises and parasailers pass by while soaking up the sun. There are fans on to keep the air cooler in the warmer months. You can find a great Bloody Mary here or try a classic mojito, mimosa or martini.
Playa at Sportsman Marina
Sit indoors or outdoors and still enjoy the view at Playa of the marina on a sunny day. They have an impressive wine list including wine on tap and to-go cocktails! Find your favorite classic mojitos, mimosas or draft beer at any time but you can also enjoy happy hour daily 3-6pm. They also have a colorful signature cocktail menu with options like The Pink Flamingo, Kokomo and Endless Summer.
All of these cocktail spots are convenient to our many vacation rentals in Gulf Shores and Orange Beach. If you haven't booked your spring and summer beach getaway, we have plenty of options at Sugar Sands Realty!
---
---