Why You Should Vacation in Orange Beach, Alabama
Posted on April 23, 2018
You work hard, so when those vacation days finally roll around, it's time to treat yourself. The trip of a lifetime starts by choosing the perfect getaway spot, which is why Sugar Sands Realty & Management pairs vacationers with condo rentals in Orange Beach, AL. Here, they explain what to expect from this beautiful spot along the Gulf Coast, so you can decide if it's right for your next trip.
Why Vacation in Orange Beach?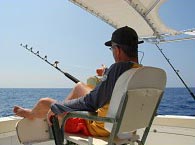 Whether you're looking for an action-packed trip or a laid-back beach vacation—or a little bit of both—Orange Beach has it all. The local Wharf hosts regular concerts and is home to the largest Ferris wheel in the Southeast. Those looking to make the big catch can even book a chartered fishing excursion on the Gulf.
The area has 13 professionally designed golf courses and an endless stretch of white sand beaches. Whether you embark on a dolphin watching trip, hike through the Bon Secour National Wildlife Refuge, or parasail over the Gulf, you'll never get tired of the view.
How to Plan Your Getaway
The best way to enjoy a luxury experience on the Gulf Coast is to book beachfront real estate. There is a wide selection of available rental condos, so you can find something in your price range that meets your needs. Want to fit in a quick game of tennis before you walk down to the beach with a book? You can find a vacation rental that will nurture your sense of adventure while providing all the comforts of home.
Making your dream vacation a reality is as easy as calling Sugar Sands Realty & Management at (800) 824-6462. From there, you can speak with a planning specialist who knows the area well. You can also visit their website to search for condo rentals in Orange Beach, AL based on your budget and desired amenities.
---
---