4 Reasons to Escape to Orange Beach and Gulf Shores for a Couple's Getaway
Posted on January 14, 2020
Take some much-needed "us time" on a couple's getaway.
Snow can be dreamy for the holidays but by February, we assume our friends to the north of us are counting down the days until warmer weather arrives. Well, no need to wait! Here on the Gulf Coast, we have sunshine and mild temps during winter. Looking for a reason to plan a trip? Valentine's Day is coming up! We've highlighted 4 great reasons to visit Alabama's beaches for a couple's getaway.
Romance Around Every Corner
Whether your idea of romance includes long walks on the beach or biking a nature trail, Orange Beach and Gulf Shores is the perfect location. Take a quiet walk along the beach or rent a bike and cruise the Backcountry Trail. You will not be disappointed. After a day with nature, you have plenty of spas nearby to help you relax. Try a couple's massage at Serenity at the Beach followed by shopping and lunch at SanRoc Cay.
Make your trip even more memorable by booking this charming condo at Tradewinds in Orange Beach and enjoy 24/7 Gulf views with the convenience of being minutes from local restaurants and attractions. Directly across the street from Tradewinds is Adventure Island, where you can let your inner child play mini-golf, bumper cars and even bumper boats!
For some added excitement, see the best places to Brunch in Orange Beach/Gulf Shores.
Breathtaking Views
The sunsets are extraordinary along the coastline but if you haven't watched an Alabama sunset from an Orange Beach Gulf-front condo balcony, you're missing out. Those cotton candy colors daily but mother nature's show is always spectacular.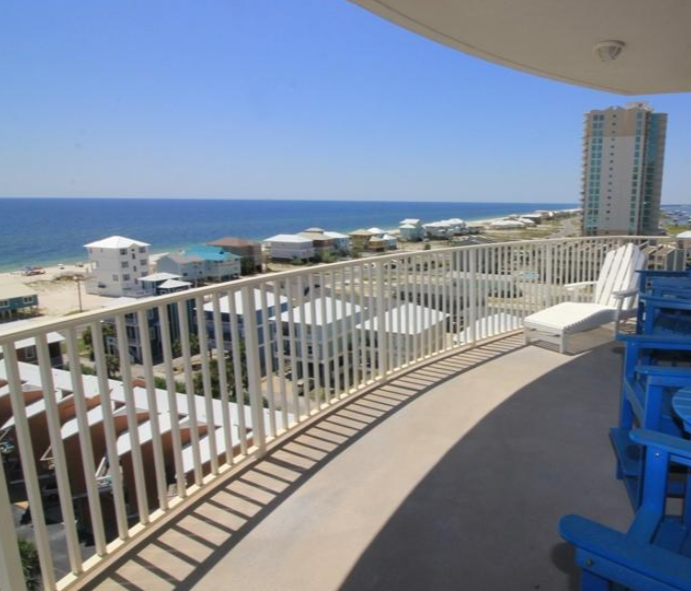 Delicious Dining
Set the mood with a table at Fisher's at Orange Beach Marina. You can dine upstairs for a more formal experience or dockside for lunch and casual dinners. The food is fresh and the oysters are a local favorite!
If live music and an outdoor atmosphere is more your style, reserve a table at Cobalt on a Friday or Saturday evening. They have an impressive food and cocktail menu for even the pickiest of eaters.
The Gulf Coast is full of delicious dining options so be sure to try more than one during your stay.
Small Town Charm
You'll notice the line "Small Town, Big Beach" on many signs and city vehicles in Gulf Shores. This holds true for both Gulf Shores and Orange Beach with a community that loves to support local businesses, southern hospitality around every corner and less traffic this time of year.
One of the best perks of escaping to a small beach town on vacation is the fact that you are within walking distance to restaurants and entertainment. Rent a bike, jet ski or boat from one of the local watersports companies and plan a day of adventure around our charming coastal towns here in Alabama.
We've listed plenty of ideas for fun in the area and you can book your vacation directly online with Sugar Sands Realty. Don't hesitate to give us a call with any questions. We're happy to help!
---
---